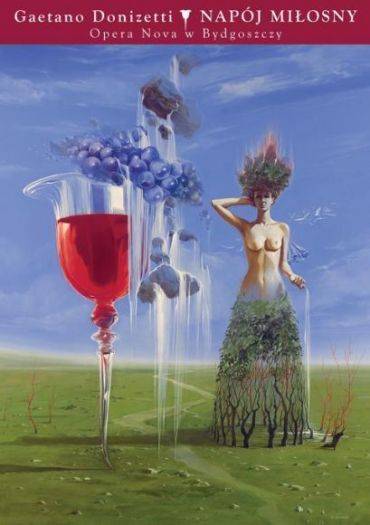 Napój miłosny
Opera komiczna w 2 aktach
Kompozytor: Gaetano Donizetti
Data premiery: 2009-04-18
Czas trwania: 2 godz. 20 min., jedna przerwa
Wykonawcy: Soliści, Chór i Orkiestra Opery Nova
Realizatorzy:
Reżyseria i inscenizacja: Krzysztof Nazar
Kierownictwo muzyczne: Iwona Sowińska
Scenografia: Stephan Dietrich
Współpraca muzyczna: Jerzy Wołosiuk
Przygotowanie chóru: Henryk Wierzchoń
Konsultacja choreograficzna: Zofia Rudnicka
Obsada:
Adina: Julia Iwaszkiewicz, Victoria Vatutina
Nemorino: Szymon Rona, Łukasz Załęski
Belcore: Adam Zaremba, Adam Kutny
Dulcamara: Janusz Żak
Gianetta: Krystyna Nowak, Magdalena Polkowska
Notariusz: Łukasz Seremet
Dyrygent: Piotr Wajrak
Tytuł wystawiony po raz pierwszy w historii bydgoskiej sceny operowej.
Partytura wskazuje na rękę prawdziwego mistrza; jej styl jest błyskotliwy, reprezentuje najlepszy przykład opery buffa . Entuzjastyczny werdykt mediolańskiej publiczności po prapremierze w 1832 r. zyskał potwierdzenie na innych scenach: w ciągu kilkunastu lat opera ta podbiła świat. Dziś "Napój miłosny" to jeden z filarów "żelaznego repertuaru" operowego. Dzieło nosi piętno genialności; nie brak mu scen czysto komicznych, acz nie zmierzają one li tylko do wywołania beztroskiego śmiechu. Kompozytor doskonale wczuwa się w każdą sytuację libretta, celnie tworząc muzyczne charakterystyki bohaterów. Donizetti daje śpiewakom okazję do zabłyśnięcia popisowymi partiami .Każda z postaci prezentuje się w sugestywny i czytelny sposób. Arcydzieło bel canta stworzone przez Gaetana Donizettiego ,znakomicie wyreżyserowane w Operze Nova przez Krzysztofa Nazara, zachwyca pięknem muzyki i wiarygodnie przedstawionymi postaciami.
Mówił reżyser, Krzysztof Nazar : " (...) opera opowiada o odwiecznym problemie wynikającym z odmienności między kobietą i mężczyzną, o różniących się charakterach i sposobach widzenia świata, także o stosunkach między ludźmi , o wierności wobec swoich przekonań, zmienności natury, dojrzewaniu uczuć. Tyle, że jest to opowiedziane nie w wymiarze Dostojewskiego, ale dużo bardziej pogodnie i z pozycji wyrozumiałości dla ułomności śmiesznostek drugiego człowieka. Może stąd też wynika trudność, jak tę opowieść zawartą w libretcie potraktować. Czy jako farsę, ale nie jest zjadliwa i przecież farsą tak naprawdę nie jest, czy jako opowiedzianą z lekkością historię o naszych niedoskonałościach , które towarzyszą całemu życiu (...)- Myślę, że dużą scenę – nawet przy kameralnym dziele - zawsze można zapełnić atrakcyjnością bycia scenicznego bohaterów. Poza tym obok postaci wiodących równie istotną funkcję pełnić może w tej operze chór, który jest świadkiem scenicznych wydarzeń. A że w Operze Nova w Bydgoszczy chór jest 60-sobowy to siłą rzeczy musi być tak uruchomiony, by wyraziście i znacząco uczestniczyć i towarzyszyć perypetiom głównych bohaterów dramatu. W operze i w balecie już nie tylko perfekcja techniczna wykonawców jest najistotniejsza, liczy się także jak została ona "spożytkowana" przez inscenizację. Dlatego staram się korzystając z zasad scenicznej sztuki powiedzieć coś więcej o bohaterach, a nie tylko skupiać się na pokazaniu ich umiejętności czysto wokalnych. Dążę do tego, by każda postać żyła swoim życiem, posiadała swój charakter i uwiarygodniała swą niezbędność na scenie. Tak powstaje wymyślony świat rządzący się własną, stworzoną na jego potrzeby ekspresją."
Przedstawienie-laureat Narody im.Jana Kiepury dla "najlepszego spektaklu muzycznego 2009 roku".
Bilety:
normalne/ulgowe
I miejsca 80,- 40,-
II miejsca 70,- 35,-
III miejsca 50,- 30,-
Wejściówka : 25,- *
Wejściówka jest biletem wstępu na salę, nie gwarantującym miejsca siedzącego. Sprzedawana jest w dniu przedstawienia , nie podlega zwrotowi. Wejściówka nie uprawnia Widza do wnoszenia własnego krzesła na widownię.
____________________
Kalendarz wydarzeń odbywających się w Bydgoszczy miej zawsze pod ręką dzięki aplikacji mobilnej (Android i iOS).
______________________
Informacje o wydarzeniach przesyłajcie na adres wydarzenia@visitbydgoszcz.pl
______________________
Bydgoskie Centrum Informacji nie ponosi odpowiedzialności za jakiekolwiek zmiany miejsc, godzin i dat wydarzeń.