Poszerzenie pola dźwięku: koncert X-NAVI:ET (Rafał Iwański)
Gdzie?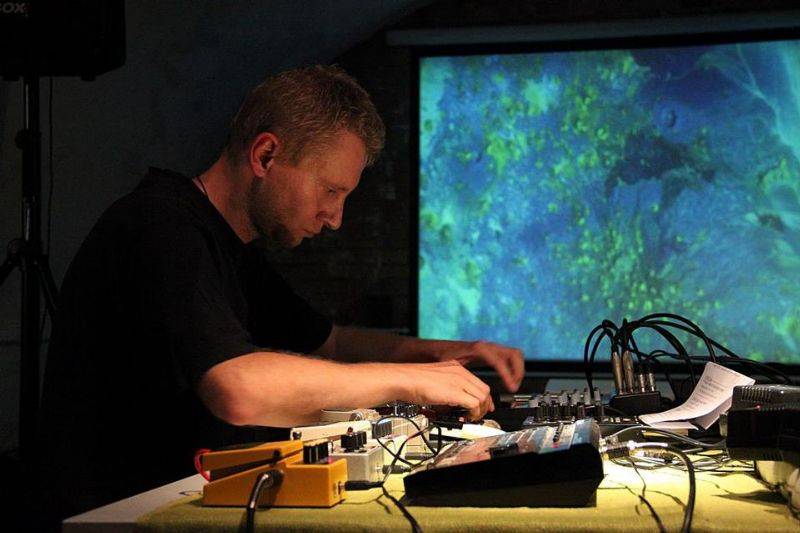 "Poszerzenie pola dźwięku" to trzecia edycja cyklu muzycznego organizowanego co roku przez Stowarzyszenie Bibliotekarzy Polskich Oddział w Bydgoszczy, uzupełniającego ofertę kulturalną miasta.
Od kilku lat na poddaszu Wojewódzkiej i Miejskiej Biblioteki Publicznej w Bydgoszczy odbywają się koncerty, prezentacje i zajęcia warsztatowe, które w świadomości odbiorców utrwaliły się jako muzyczne wydarzenia na Strychu. Warunki akustyczne oraz wyjątkowa atmosfera miejsca przyciągają twórców ambitnych, nietuzinkowych, o ugruntowanej pozycji artystycznej. W ciągu kilku lat Strych stał się ważnym miejscem na muzycznej mapie kraju. Poprzednie edycje "Poszerzenia pola dźwięku" ugruntowały pozycję tego cyklu, który poza koncertami skupia swoją uwagę także na procesie wzajemnego przenikania różnych twórczych dyscyplin. Stąd często wydarzenia inspirowane literaturą.
Tegoroczny program przedstawia się następująco:
18 maja, godz. 19.00 – X-NAVI:ET (Rafał Iwański) – koncert
22 maja, godz. 19.00 – Zbigniew Chojnacki – koncert
24 maja, godz. 19.00 – Monika Szala/Paweł Szala/Michał Zdeb – słuchowisko muzyczno-literackie Jaszid i Jaszida oparte na opowiadaniu I.B. Singera
24 maja, godz. 20.00 – Jacek Buhl/Jarosław Majewski/Piotr Mełech – koncert
25 maja, godz. 20.00 – Olga Hanowska – koncert
1 czerwca, godz. 19.00 – Emiter (Marcin Dymiter) – warsztaty muzyczne z cyklu Tracklista i koncert
Wszystkie wydarzenia odbywają się na Strychu Wojewódzkiej i Miejskiej Biblioteki Publicznej w Bydgoszczy. Wstęp jest bezpłatny.
Projekt współfinansowany ze środków miasta Bydgoszczy
Rafał Iwański - znany m.in. z grup HATI, Innercity Ensemble, KAPITAL, Alameda 5 i projektu muzyczno-astronomicznego VOICES OF THE COSMOS. Perkusjonista, z wykształcenia etnolog, jako X-NAVI:ET tworzy muzykę elektroakustyczną budowaną na brzmieniu modyfikowanych analogowo i cyfrowo instrumentów elektronicznych i akustycznych. Rafał Iwański zagrał solo i z zespołami HATI i KAPITAL setki koncertów m.in. w Polsce, Niemczech, Belgii, Holandii, Wielkiej Brytanii, Irlandii, Austrii, Hiszpanii, Szwajcarii, Norwegii, Francji, Danii, Czechach, na Litwie, Słowacji, Węgrzech i w USA. Współpracował z innymi artystami dźwięku i obrazu, jak m.in. Z'EV, Richard Pinhas, Peter Votava, Zdzisław Piernik, Jerzy Mazzoll, John Zorn, Sławomir Ciesielski, Anna Zielińska, Wojciech Jachna, Anna Pilewicz, Raymond Salvatore Harmon. Brał udział w nagraniu i realizacji kilkudziesięciu albumów wydanych na nośnikach CD i DVD, płytach winylowych i kasetach.
Występował na festiwalach i cyklach koncertowych, m.in.: Unsound (Kraków, 2017), Punctum (Praga, 2017), Club|Debil (Drezno, 2017), Hradby Samoty (Słowacja, 2017), Musica Privata (Łódź, 2016), Festiwal Okultury (Warszawa, 2016), Restytucje (Konin, 2014), Audio Art (Kraków, 2013), Festiwal Trans/Wizje (CSW Zamek Ujazdowski, Warszawa, 2012), Blurred Edges Festival (Hamburg, 2011). Członek Polskiego Stowarzyszenia Muzyki Elektroakustycznej.
http://soundcloud.com/xnaviet
http://xnaviet.bandcamp.com/
http://youtube.com/user/xnaviet
https://www.facebook.com/xnaviet
__________
Kalendarz wydarzeń odbywających się w Bydgoszczy miej zawsze pod ręką dzięki aplikacji mobilnej (Android i iOS).
______________________
Informacje o wydarzeniach przesyłajcie na adres wydarzenia@visitbydgoszcz.pl
______________________
Bydgoskie Centrum Informacji nie ponosi odpowiedzialności za jakiekolwiek zmiany miejsc, godzin i dat wydarzeń.