Horno zaprasza: Opera na afiszu - wystawa plakatów BFO od 1994 r.
Gdzie?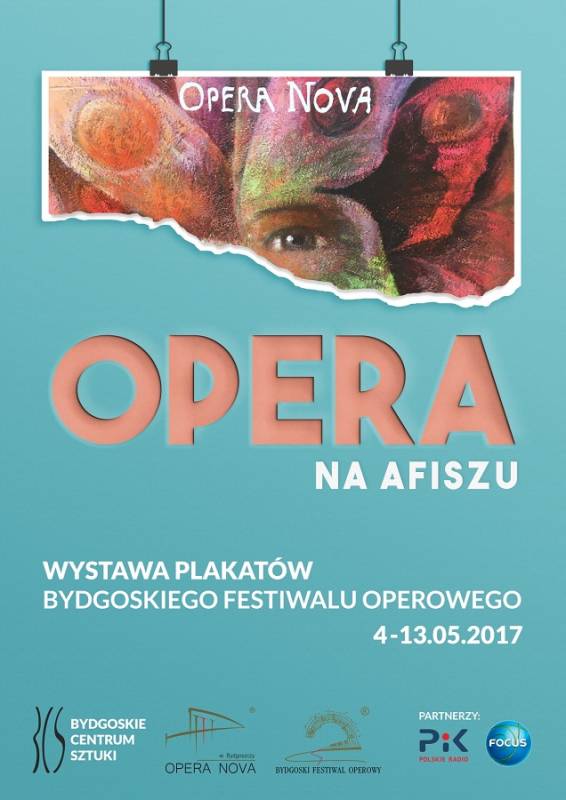 Dwadzieścia cztery plakaty operowe ze zbiorów bydgoskiej opery będzie można podziwiać na wystawie w Centrum Sztuki im. Stanisława Horno-Popławskiego przy ul. Jagiellońskiej 47 w Bydgoszczy. Wystawa towarzysząca XXIV Bydgoskiemu Festiwalowi Operowemu, organizowanemu przez Operę Nova, rusza od 4 maja i będzie trwała do 13 maja.
Eksponowane autentyczne plakaty operowe prezentują kolekcję prac zaprojektowanych przez najwybitniejszych polskich grafików, m.in. przedstawicieli polskiej szkoły plakatu. Plakat operowy, pełniąc rolę graficznego skrótu, wymykał się zawsze rozwiązaniom komercyjnym, przez co charakteryzował się wysokimi walorami artystycznymi, wyrafinowanym językiem plastycznym i typograficznym, ekspresyjnością i dbałością o wykonanie. Prezentowane na wystawie plakaty wyszły daleko poza funkcje informacyjne i zapowiadające nadchodzące wydarzenia operowe. Plakaty operowe to wyjątkowe dzieła, które pokazują związek projektu graficznego i muzyki. Za każdym plakatem operowym stoi konkretna fabuła przekazana w graficznej i syntetycznej prostocie plakatu.
Starannie wyselekcjonowane przez nas plakaty operowe warto zobaczyć z kilku powodów - uważa Hanna Kardas założycielka BCS-u. W dobie grafiki komputerowej plakaty operowe wykonane tradycyjnymi metodami nabierają wyjątkowego znaczenia. W większości przypadków plakaty te od początku do końca wykonywane są w tradycyjny sposób za pomocą farby, tuszu i pędzla, bez użycia fotografii, komputera i programów graficznych, W procesie ich powstawania towarzyszyły im raczej środki przynależne malarstwu i typografii. Są to tak naprawdę obrazy, głęboko przemyślane, zarówno pod względem formy, jak i treści. Dlatego też polska szkoła plakatu jest tak doceniana na całym świecie. W prezentowanych przez nas pracach opowiadających historię wystawianych oper widać zindywidualizowany styl twórców i wysokie walory artystyczne. Plakaty zaskakują nas nie tylko różnorodnością rozwiązań plastycznych, ale też dowcipem, aluzyjnością, aforyzmami, graficznymi skojarzeniami. Sam plakat operowy jest bardzo trudną formą sztuki, gdyż w jednej prostej formule musi zawierać nie tylko informację o wydarzeniu operowym, ale także ukazać za pomocą środków graficznych wybrany fragment libretta czy tytuł opery. Bywa, że plakat unika jednoznacznego wskazania, gra metaforami, zaskakuje skojarzeniami i aluzjami. Oglądając plakat operowy zmuszani więc jesteśmy do refleksji, do wyjścia poza prosty reklamowo-graficzny znak. Prezentowana u nas wystawa pokazuje więc doskonały warsztat graficzny, perfekcyjne rozplanowanie typograficzne, czy nawet unikalne, charakterystyczne dla każdego z twórców liternictwo. Wszystkie te cechy powodują, że warto wystawę odwiedzić, prezentowane plakaty są często nie mniej interesujące od przedstawień, które swego czasu zapowiadały, są ich spójną częścią. Jestem pewna, że te wysmakowane artystycznie kreacje na długo pozostaną w pamięci zwiedzających. Po prostu, obok prezentowanych plakatów nie można przejść obojętnie.
Plakaty autorstwa najwybitniejszych polskich twórców, takich jak: Wiesław Rosocha, Wiesław Wałkuski, Wiktor Sadowski, Rosław Szaybo, Wiesław Grzegorczyk, Michał Batory
czy Karolina Michałowska-Filipowicz będzie można oglądać w Bydgoskim Centrum Sztuki im. Stanisława Horno-Popławskiego od 4 do 13 maja br.
Wśród zaprezentowanych prac znajduje się prawdziwy unikat – jedyny zachowany egzemplarz plakatu z I edycji Bydgoskiego Festiwalu Operowego z 1994 roku.
Dodatkowo, będzie można obejrzeć suknię Zofii ze spektaklu Stanisława Moniuszki ,,Halka" z 2013 roku.
Ceny biletów :
Bilet normalny – 5 zł
Ulgowy – 3 zł
Dla posiadaczy karnetów na XXIV Bydgoski Festiwal Operowy wstęp na wystawę jest darmowy.