Wystawa fotografii Zbigniewa Mroczka: Przenikliwość myśli
Gdzie?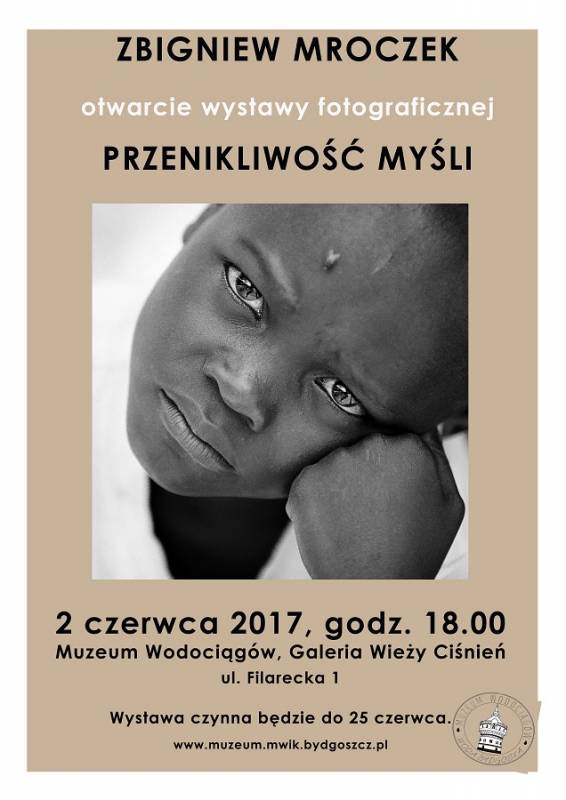 GALERIA WIEŻY CIŚNIEŃ MUZEUM WODOCIĄGÓW w Bydgoszczy przy ulicy Filareckiej 1 zaprasza 02.06. 2017 roku o godzinie 18.00 na wystawę fotografii Zbigniewa Mroczka pt. "Przenikliwość myśli". Będzie to ekspozycja 75 portretów z podróży do wielu zakątków świata.

Portrety Zbigniewa Mroczka to ŻYWE ŚWIADECTWA RÓŻNYCH KULTUR. Każdy PORTRET-OBRAZ jest przepełniony napięciem. Fascynuje bogactwo osobowości, barw (dostrzegalnych nawet w fotografii czarno-białej) i atrybutów przynależności społecznych (etnicznych). W wyrazie każdej twarzy odnajdujemy znajome emocje i o b e c n o ś ć; świadczy to o szczerym traktowaniu przez artystę, spotkanych ludzi. Jest w nich powaga, godność, są jak posągi- a przy tym nie ma w nich sztuczności. Kompozycja każdej fotografii jest dziełem malarskim. Duży format z pewnością potęguje czytelność obrazu oraz wrażenia odbiorcy, podkreślając profesjonalizm fotograficzny Zbigniewa Mroczka. Podróż i fotografowanie to działania symultaniczne, przy czym robienie portretów autor uznał za najbardziej osobisty sposób fotograficznej kreacji .
Zbigniew Mroczek podróżuje od 40 lat. Był na wszystkich kontynentach, także w Zelandii- niedawno ogłoszonej ósmym kontynentem. Zawsze najważniejsze są spotkania z ludźmi i kulturą. Najchętniej wraca do krajów afrykańskich oraz do Indii.
Wystawiał w Łodzi i Bydgoszczy, dwukrotnie, w 2007 i 2011 roku, odbierał statuetkę- Nagrodę Główną w kategorii fotografia Festiwalu Cywilizacji i Sztuki Mediów MEDIATRAVEL, który w Łodzi od 2001 roku propaguje odkrywanie kultur i szacunek dla nich.