Trenuj na Wyspie Młyńskiej i pomagaj
Gdzie?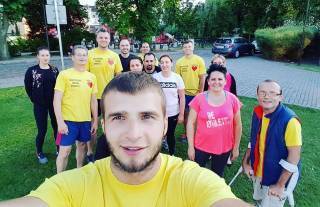 Trener personalny Arkadiusz Czajkowski zaprasza na Wyspę Młyńską, gdzie w każdą środę o godz. 19.19 odbywać się będą treningi charytatywne. Dochód z nich przeznaczony zostanie na półkolonie w "Wiatraku" dla dzieci z ubogich rodzin.
To już druga edycja naszych spotkań, podczas których trenujemy i pomagamy innym – zaprasza na Facebooku Arkadiusz Czajkowski.
Spotkania odbywają się w każdą środę o godz. 19.19 na Wyspie Młyńskiej. Zajęcia trwają 41 minut. - To trening, podczas którego poznasz wspaniałych ludzi, poprawisz sobie humor, spalisz tkankę tłuszczową i wystrzelą Twoje endorfiny – zachęca trener. - Oprócz zabawy chcemy pomagać! Przez pierwsze dwa miesiące treningów będziemy wspierali Fundację "Wiatrak". Dzięki nam dzieci z ubogich rodzin będą w wakacje mogły skorzystać z półkolonii organizowanych przez fundację. Im więcej zbierzemy, tym większa ilość dzieci się uśmiechnie - dodaje.
Każdy, kto chce wziąć udział w treningu musi spełnić dwa warunki:
1. Uśmiechać się
2. Wrzucić do wspólnego woreczka minimum 1 zł. Każda złotówka zostanie wykorzystana na wyżej wymieniony cel.
- Łączmy siły, zapraszajmy znajomych i pomagajmy wspólnie. Pokażmy, że potrafimy i lubimy pomagać – zaprasza Arkadiusz Czajkowski.

Kalendarz wydarzeń odbywających się w Bydgoszczy miej zawsze pod ręką dzięki aplikacji mobilnej (Android i iOS).
______________________
Informacje o wydarzeniach przesyłajcie na adres wydarzenia@visitbydgoszcz.pl
______________________
Bydgoskie Centrum Informacji nie ponosi odpowiedzialności za jakiekolwiek zmiany miejsc, godzin i dat wydarzeń.