International Canoeist Day Kayakmania Bydgoszcz 2019
Gdzie?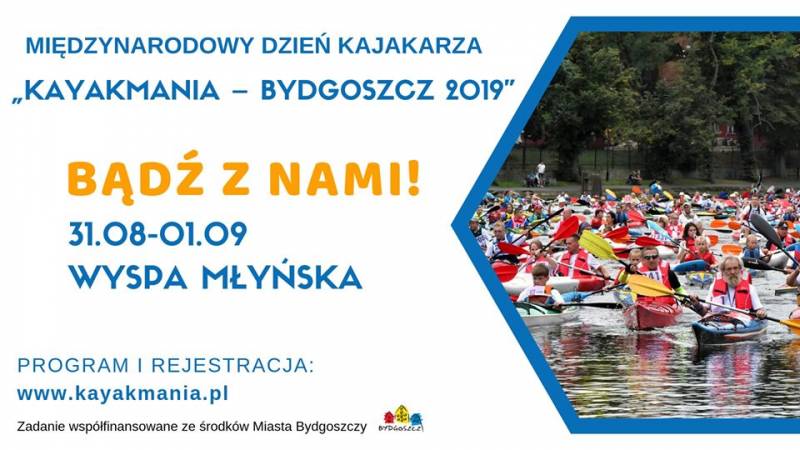 Międzynarodowy Dzień Kajakarza Kayakmania Bydgoszcz 2019 planowany jest w terminie 31.08- 01.09.2019.
Jest to III edycja imprezy kierowanej nie tylko do sympatyków rekreacji wodnej Bydgoszczy, jej okolic, a także do jej sympatyków z całego kraju i zagranicy.
Oryginalność i powodzenie naszej kolejnej, III edycji Kayakmanii, to nie tylko działalność rekreacyjno – sportowa, promocja miasta Bydgoszczy, ale przede wszystkim promocja naszego regionu, województwa i szeroko pojętej działalności na rzecz dzieci i młodzieży.
W programie planowanego przez nas Pikniku na Wyspie Młyńskiej znajdą się m.innymi następujące aktywności:
- Miasteczko Zabaw dla Dzieci pod patronatem Family Park
- działania przyrodniczo – ekologiczne w tym quizy, gry, zabawy oraz warsztaty artystyczno - ekologiczne dzieci i młodzieży, działania mające na celu popularyzowanie wiedzy przyrodniczo – ekologicznej oraz kształtowanie postaw proekologicznych wśród jej uczestników. Naszym celem jest rozwijanie zainteresowań edukacją ekologiczną. Chcemy upowszechniać wiedzę z zakresu ochrony środowiska, kształtować zachowania pro środowiskowe dzieci i młodzieży, a przy okazji i ogółu społeczeństwa, jak też aktywizować społecznie – budować społeczeństwo obywatelskie w obszarze ochrony środowiska.
Zaproponujemy aktywności na wodzie w postaci konkurencji kajakowych jak m.innymi:
- Ultramaraton
- 3 konkurencje maratonowe (T2K, T2M, T2 Mix)
- Rodzinne Zawody Kajakowe Open (Kr)
- Bieg Główny o Puchar Prezydenta Miasta Bydgoszczy
- Dwubój Rowerowo-Kajakowy
- Wyścigi Smoczych Łodzi
- Wyścigi Łodzi Butelkowych
- Wyścigi Kajakowe Dzieci.
______________________
Kalendarz wydarzeń odbywających się w Bydgoszczy miej zawsze pod ręką dzięki aplikacji mobilnej (Android i iOS).
______________________
Informacje o wydarzeniach przesyłajcie na adres wydarzenia@visitbydgoszcz.pl
______________________
Bydgoskie Centrum Informacji nie ponosi odpowiedzialności za jakiekolwiek zmiany miejsc, godzin i dat wydarzeń.
do góry