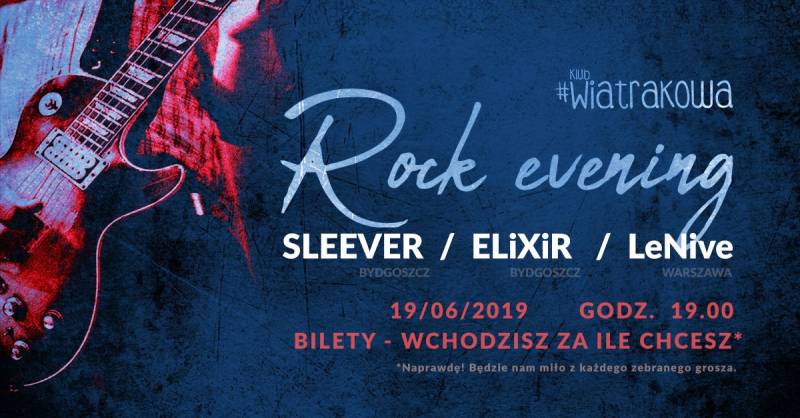 Wystąpią dwie znane i cenione bydgoskie kapele, Sleever i Elixir i gość specjalny wieczoru prosto z samiuśkiej Warszawy, LeNive.
Bilety w cenie, jaką sobie wymyślisz od 1zł do 10000000000zł. Będzie baaaaaardzo miło z każdego zebranego grosza.
Zespół SLEEVER powstał w maju 2010 r. Tworzą go bydgoscy muzycy: Marek Bogusz – wokal, Pietruch – perkusja, Tomasz Chmielecki – gitara, Marcin Chmielecki – gitara, Tomasz Nowak - gitara basowa
Nazwa wywodzi się od słowa Sleever, które w australijskim slangu oznacza "large drink" czyli dużego drinka.
Grupa tworzy własne utwory, poruszając się w szeroko rozumianej konwencji muzyki rockowej. Repertuar jest zróżnicowany. Obok utworów, atakujących uszy kanonadą perkusji, mocnym głosem Marka i mięsistą pracą gitar, jest też miejsce na uspokojenie, w formie gitarowej, rockowej ballady.
- Interesuje nas stworzenie własnego, rozpoznawalnego stylu, który będzie zawierał pierwiastki naszych rozległych muzycznych zainteresowań. Nie chcemy się ograniczać, lubimy łączyć różne style muzyczne. Ich wypadkową jest Sleever!" – jednym głosem wypowiadają się muzycy zespołu.
Inspiracje muzyków są szerokie: od muzyki rockowej lat 60 i 70 poprzez cięższe lub lżejsze formy muzyczne aż do muzyki klasycznej.
Elixir to rockowa mikstura, której pierwotny skład uformował się w lutym 2016r. w Bydgoszczy. Początkowo grupę tworzył kwartet, ale do pełni smaku brakowało jednego składnika, stąd dziś grają w piątkę. Kasia Łyszkowicz-Jankowska - wokal, Robert Jankowski - gitara, Michał Mielewczyk - bas, Piotr Pryka - klawisze i Rafał Cierpiński - perkusja.
Zespół ma za sobą występy na dużej i małej scenie, w klubach i na zlotach motocyklowych. Zagrali m.in. na zlocie motocyklowym "Holiday Party Kruszwica" organizowanym przez Born to Ride MC, wzięli udział w serii wieczorów rockowych organizowanych przez Azteka Pub w Trzciance, a także już w nowym składzie wsparli Wielką Orkiestrę Świątecznej Pomocy koncertem w CKiS "Ziemowit" w Kruszwicy, zagrali jako support zespołu Varius Manx na Dniach Żnina i wystąpili na słynnym koronowskim Rockowym Grillowisku. Ponadto, zajęli trzecie miejsce w plebiscycie Metropolii Bydgoskiej na juwenaliowy zespół studenckiej Blokady Łużyka.
Mają ambicję podbić świat swoją muzyczną mieszanką aromatycznych dźwięków.
Na muzycznej scenie można spotkać "na wskroś artystyczne projekty muzyczne" i "normalne" zespoły. LeNive należy do tej drugiej kategorii. Pomysł na formację narodził się w głowach K. Kraszewskiego i P. Kura w erze przed facebookowej. Jego obecny kształt, to efekt wspólnych ekscytacji, fascynacji i doświadczeń, który przypadł do gustu zjawiskowej ekipie tworzącej od 2009 roku skład LeNive, łącząc w ten sposób rutynę obu "starych członków" z post-akademicką niestabilnością reszty bandu.
LeNive wykonuje szeroko pojętą muzykę rockową, od standardów po autorskie numery, na które obowiązkowo trzeba spojrzeć z odpowiedniej perspektywy. Do tej pory można było zobaczyć zespół w takich klubach jak: Skład Butelek, Tygmont, InDecks, Huśtawka, Piwnica Pod Harendą, itd. itd...
Wnikliwa analiza potwierdziła, że słuchaczom najbardziej podoba się (poza bezkonkurencyjną konferansjerką Pernela) nietuzinkowa atmosfera jaką tworzy band - bez spinki, z dystansem do siebie, świata i... muzyki.
Skład:
Krisu - wizjoner w różowych okularach optymizmu
Pernel - dysponent nieprzebranych złóż dziękczynnych
STach - mistrz trunków chmielowych i kolporter głębokich dźwięków
Przemo - "czy ktoś ma ochotę na... czekoladowy beat"
______________________
Kalendarz wydarzeń odbywających się w Bydgoszczy miej zawsze pod ręką dzięki aplikacji mobilnej (Android i iOS).
______________________
Informacje o wydarzeniach przesyłajcie na adres wydarzenia@visitbydgoszcz.pl
______________________
Bydgoskie Centrum Informacji nie ponosi odpowiedzialności za jakiekolwiek zmiany miejsc, godzin i dat wydarzeń.