Oprowadzanie z audiodeskrypcją
Gdzie?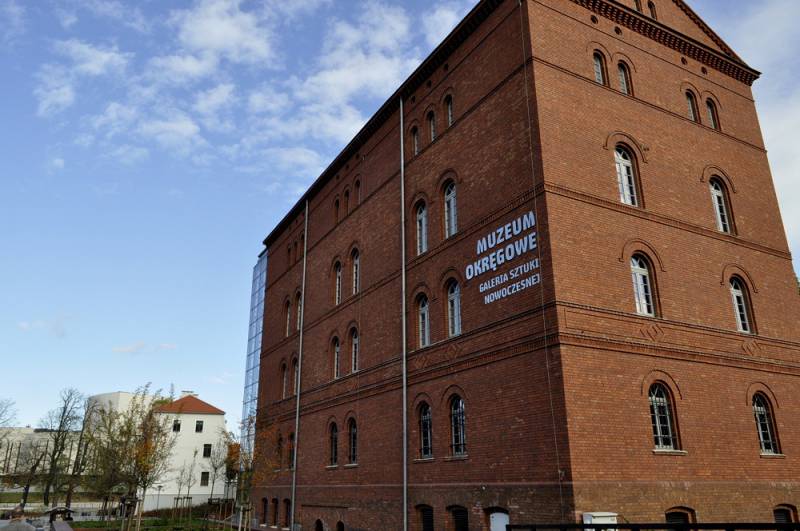 Muzeum Okręgowe im. Leona Wyczółkowskiego włączyło się w Trzeci
Warszawski Tydzień Kultury Bez Barier organizowany przez Fundację
Kultury Bez Barier. 1 października o godz. 14:00 zapraszamy wszystkich
chętnych na oprowadzanie z audiodeskrypcją po Galerii Sztuki Nowoczesnej. Wstęp wolny. Nie obowiązują zapisy.
Gdybym
mógł, chodziłbym do teatru codziennie. Gdybym mogła jeszcze raz to
zobaczyć, na pewno bym tu wróciła. Każdemu z nas zdarzyło się tak
pomyśleć. A gdy przeszkodą jest nie tylko brak czasu albo niewygodny
dojazd?
Nie pozwólmy, żeby doświadczenie uczestnictwa w kulturze było
jednorazowe i tylko dla wybranych. Wykorzystajmy trzeci Warszawski
Tydzień Kultury Bez Barier do zmiany na więcej. Więcej kultury.
Na
razie udało nam się pokonać przestrzeń - w organizowanym po raz trzeci
Warszawskim Tygodniu Kultury Bez Barier bierze udział pięćdziesiąt
instytucji nie tylko z Warszawy, ale i z innych miast Polski. Muzea,
teatry, domy kultury i inne organizacje przygotowują specjalne
wydarzenia lub dostosowują swój aktualny repertuar do potrzeb osób
mających ograniczony dostęp do kultury. Teraz chcemy razem pokonać czas i
sprawić, aby organizowany raz do roku tydzień zamienił się w
codzienność. Mamy gotowe narzędzia i wiemy jak to robić: audiodeskrypcja
i tyflografika dla osób niewidomych i niedowidzących; tłumaczenia na
język migowy, napisy i pętla indukcyjna dla osób niesłyszących i
niedosłyszących; ułatwienia dla osób z niepełnosprawnością ruchową.
Weź udział w organizowanych przez nas wydarzeniach i przekonaj się, że kultury bez barier może być więcej.
Korzeniami
WTKBB sięga wydarzeń, które od 2008 roku dzieją się w Warszawie za
sprawą Fundacji Kultury Bez Barier i które zostały zainicjowane z myślą o
osobach z niepełnosprawnością sensoryczną (niewidomi, niesłyszący). To
dla nich zaczęto tworzyć audiodeskrypcje napisy dodawane do każdego
przedsięwzięcia opatrzonego logiem "Poza Ciszą i Ciemnością".
Cieszy
nas fakt, że z roku na rok z bogatej oferty WTKBB korzysta coraz więcej
osób z różnymi niepełnosprawnościami. To dla nich staramy się uczynić
kulturę dostępną, to oni są dla nas motywacją w działaniu. Po jednym ze
spektakli, do którego przygotowaliśmy audiodeskrypcję usłyszeliśmy "Oby
dalej i WIĘCEJ". Te słowa stały się niejako naszym mottem, czymś co nas
popycha do przodu, nie pozwala si ę poddawać, nawet gdy lekko nie jest.
Hasło tegorocznego festiwalu również wpisuje się w to myślenie. Mamy
więc nadzieję, że 3. WTKBB nie będzie sukcesem tylko ze względu na
różnorodną i ciekawą ofertę oraz pozytywne zaangażowanie instytucji
kultury, ale przede wszystkim dlatego, że WIĘCEJ odbiorców z
niepełnosprawnością i pełnosprawnych skorzysta z tej oferty i pojawi się
na festiwalowych wydarzeniach.
Anna Żórawska, prezes zarządu Fundacji Kultury Bez Barier